100 g
Regular price
Sale price
€3,35
Unit price
per
Sale
Sold out
If you've ever seen your pup drooling over the smell of a juicy hamburger, you know they're craving more than just a pat on the head. The good news is that we've got them covered! Our SANADOG Burgers are great source of protein and will satisfy your pup's craving for meaty flavour. Made from 95% duck meat, with 5% natural vegetable glycerine added to give them that chewy consistency dogs love. Plus, they are gently air-dried so you can feel good about serving them! So next time your dog starts looking at you like they want to join you for dinner, don't worry—we've got them covered! Duck Burgers Benefits: - 100% Real Duck - Single Duck Protein - Perfect for training days and walk - Raw feeding friendly Ingredients 95% Duck, 5% Natural Vegetable Glycerin. Supplementary feed for dogs. Nutritional Analysis: Proteine - 36% Fat - 18% Moisture - 8% Ash - 6% Fibre - 1% Now that you've got your bag of SANADOG, here's how to keep those tasty morsels fresh: All of our products come in a handy resealable bag, so you can lock in the natural goodness between feedings. Just store in a cool and dry place, away from direct sunlight! It's that easy! Suitable for puppies over 12 weeks old. Please always supervise your dog while feeding, and make sure fresh, clean water is available.
Net weight - 100 g
Manufacturer - SANADOG
Country of origin - Germany
Siuntimas ir grąžinimas

Omniva paštomatu įsigytos prekės bus išsiųstos jums per 2 d. d. (arba apie pristatymo terminus informuosime atskiru laišku).

Nekokybiškos, siuntimo metu pažeistos ar nepatikusios prekės gali būti grąžinamos.
Naudojimas

Saugoti nuo tiesioginių saulės spindulių, neatidarytą pakuotę laikyti normalioje kambario temperatūroje. Po atidarymo laikyti šaldytuve ir suvartoti per 2 savaites.
View full details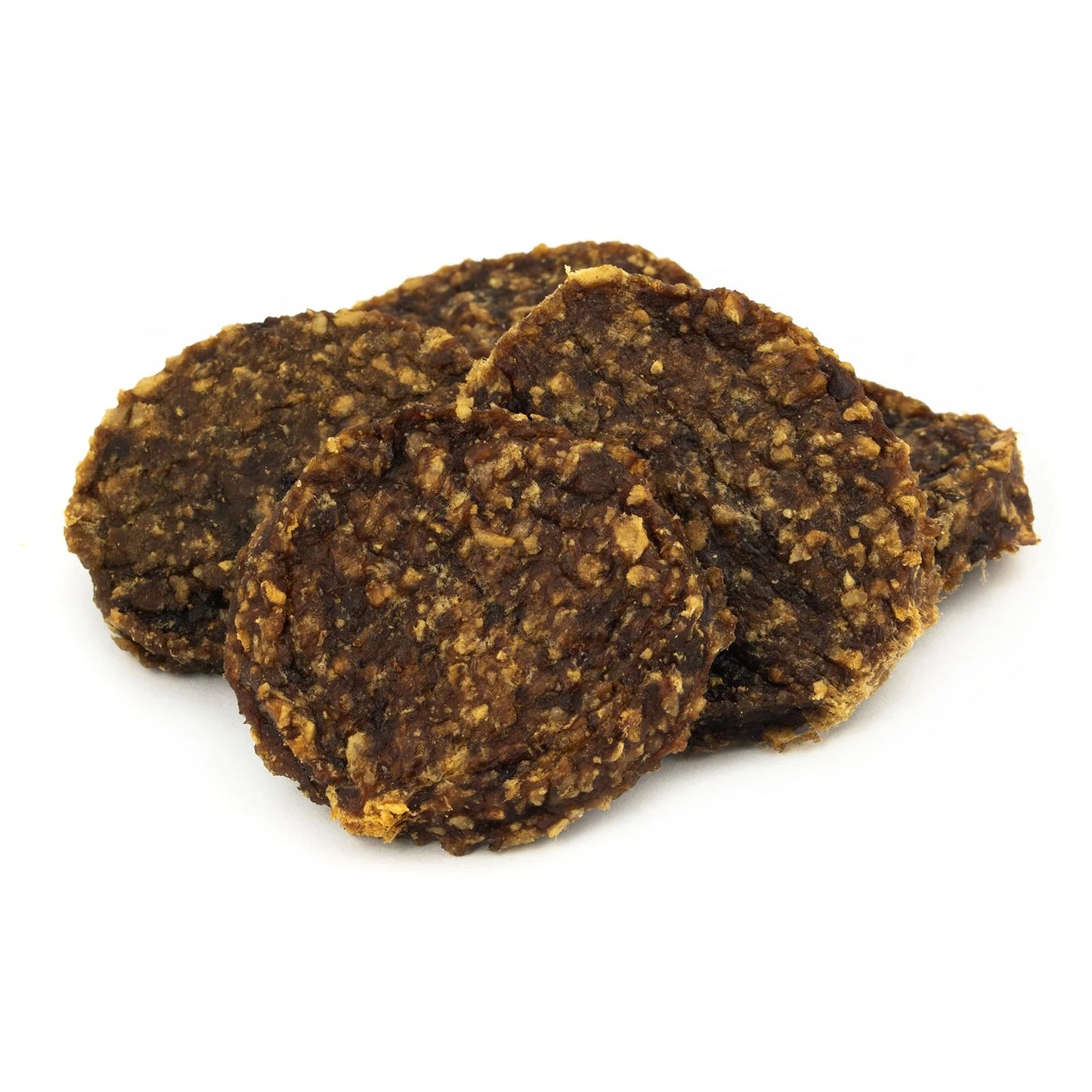 Super maistas ir skanėstai šunims!
PALA maisto bei skanėstų šunims gamybos procesas sukurtas taip, kad išsaugotų kuo natūralesnes žaliavų savybes, neprarandant maistinių medžiagų. Švelniai džiovinama žemoje temperatūroje, kol pasiekiamas idealus drėgmės lygis, taip išsaugant nesuardytus baltymus, fermentus bei amino rūgštis.
PALA augintinių maistas ir skanėstai šunims gaminami iš lengvai virškinamų ir biologiškai prieinamų aukščiausios kokybės mėsos ingredientų bei daržovių. Jie yra minimaliai apdoroti ir lengvai virškinami. Skanėstuose gausu vitaminų, mineralų, baltymų, antioksidantų, probiotikų bei Omega3 ir Omega 6 polinesočiųjų riebalų rūgščių, todėl greitai pajusite gyvūno gyvybingumą, ištvermę, pastebėsite blizgesnį kailį bei geresnę sveikatą ir pagerėjusį virškinimą.