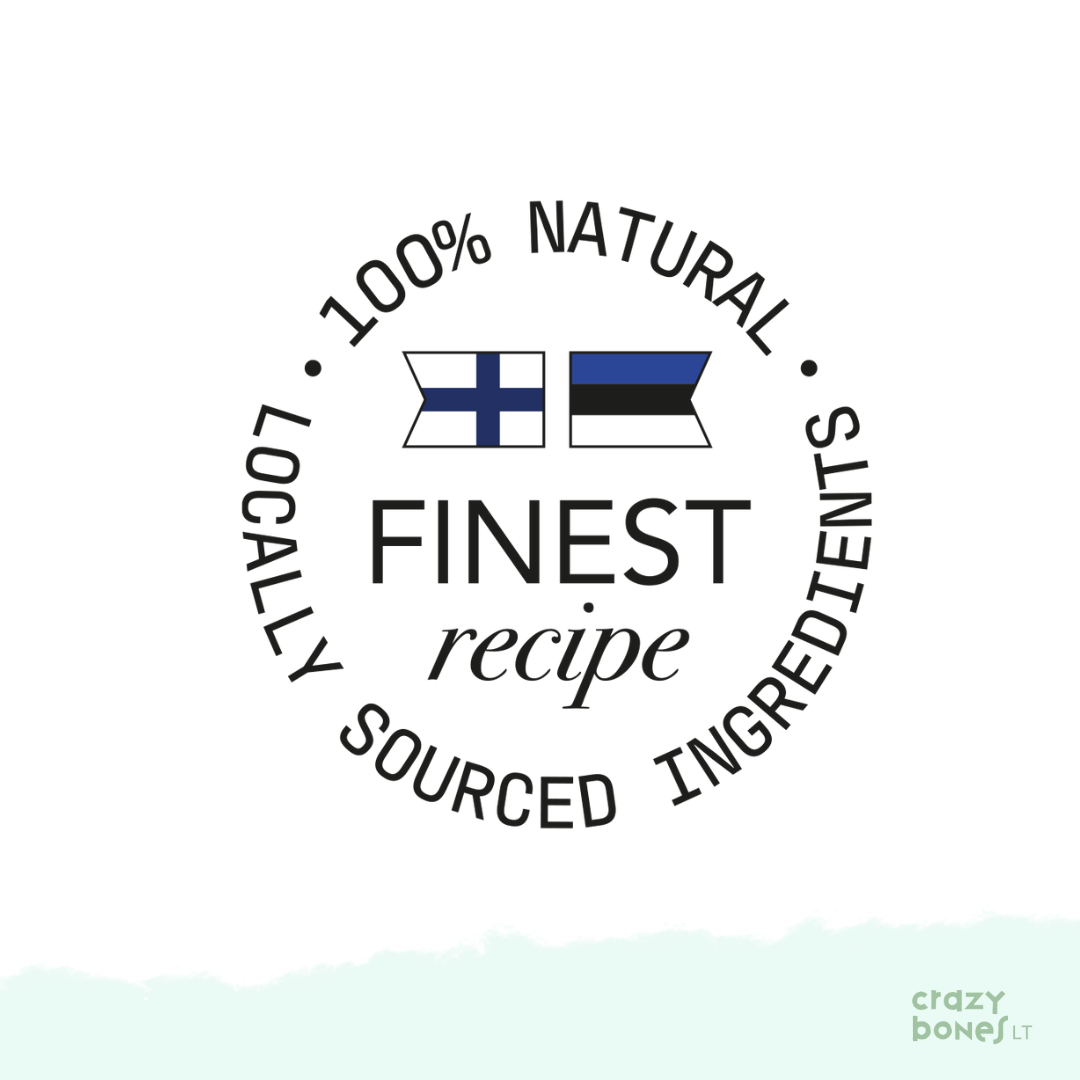 PALA dog food. Recipe NO. 6 - TURKEY, DUCK AND HERRING / 1 kg
Sale price

€31,95
Regular price
(/)
---
Recipe NO. 6 is a healthy combination of meat and fish with carefully selected vegetables and healthy natural additives. The food is rich in lean proteins, essential omegas, amino acids, vitamins and minerals.
COMPOSITION:
Turkey (38%), duck (19%), herring (19%), egg (3%), spinach, carrots, bananas, cabbage, beets, pumpkin, sea buckthorn, cranberries, blueberries, kelp, wheat grass , turmeric, sea buckthorn, black pepper, natural tocopherols with rosemary, citrus bioflavonoids.
PALA food does not contain grains, food enhancers, starches or vegetable omegas.
PALA food is made in small batches to preserve as many good nutrients as possible.
3 kilograms of products are needed to make 1 kilogram of PALA food. Carefully selected products are mixed and ground. This mixture is placed in sterile drying chambers, where it is gently dried at low temperatures for a long time until the ideal moisture level is reached. This drying process preserves the ingredients without breaking down proteins, enzymes and amino acids. When the mixture dries, it is cut into different PALA shapes and immediately packed to preserve freshness.
ANALYTICAL CONSTITUENTS
crude protein 40%, crude fat 32%, fiber 2%, moisture 10%, mineral 8%, carbohydrates 9%, calcium (Ca) 3%, phosphorus (P) 2%, CA : P 1.16:1, Omega 3 fatty acids 1.1%, Omega 6 fatty acids 4.6%, calories (kcal ME /kg) 4771.
STORAGE CONDITIONS
After opening the bag, close the package tightly, this way the food will be good for consumption for 2 weeks. Store in a cool dry place.
Net weight - 1 kg
Manufacturer - Pala Petfoods
Country of origin - Estonia
Choose options