(240 vnt. / MAIŠELIO KAINA: 0,07 EUR)
Regular price
€19,85
Sale price
€16,85
Unit price
per
Sale
Sold out
NO UNDESIRABLE WASTE: Bags are packed in a single cardboard box for convenient storage at home.
COMPOSTABLE: In the natural environment, biodegradable (compostable) bags decompose into biomass, water and carbon dioxide without releasing harmful substances and therefore do not have a negative impact on the environment.
COMPLETELY NATURAL: made from cornstarch and rolled on recycled cardboard rolls. Make a right choice, raise your puppy responsibly!
LARGE AND STRONG: CrazyBonesLT poop bags are large enough for all dog breeds and hold up to 2 litres of water!
SUITABLE FOR BAG HOLDERS: Standard size rolls will fit in any holder you probably already have - so no extra cost
240 bags in the MIDI set - one box, 16 rolls. No extra waste!
Consists of

Natūralioje aplinkoje biologiškai skaidus (kompostuojamas) maišelis augintiniams suyra į biomasę, vandenį ir anglies dioksidą, neišskirdami kenksmingų medžiagų, todėl neturi neigiamo poveikio aplinkai.

Šunų atliekų maišelis pagamintas iš kukurūzų krakmolo, supakuotas į perdirbamo popieriaus dėžutę.
Shipping and Returns

Items purchased at Omniva parcel terminal will be shipped to you within 2 working days (or we will inform you about delivery times in a separate letter.)

Low-quality, damaged or disliked items may be returned.
Usage

Protect from direct sunlight, store at normal room temperature.

Use within 12 months from purchase.
View full details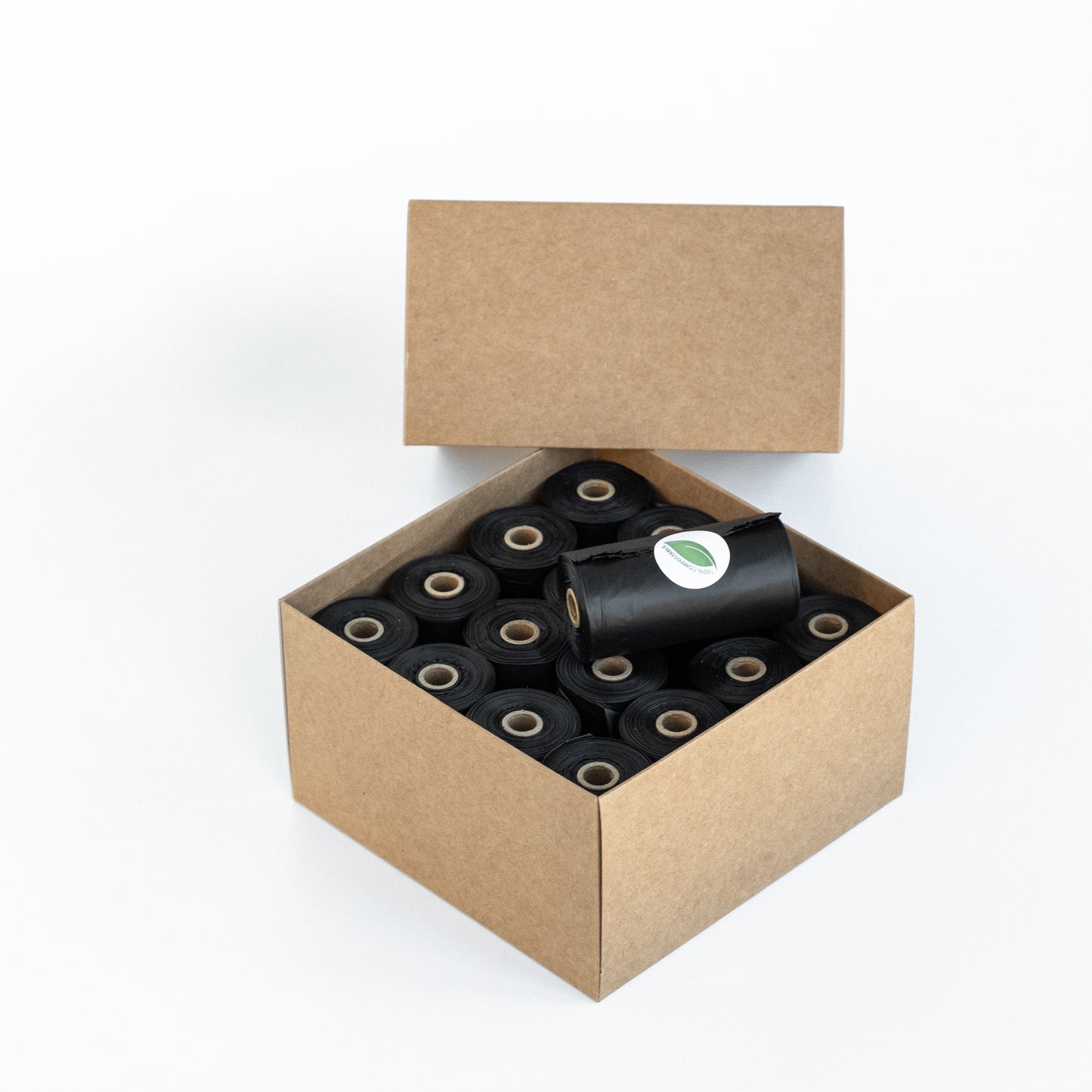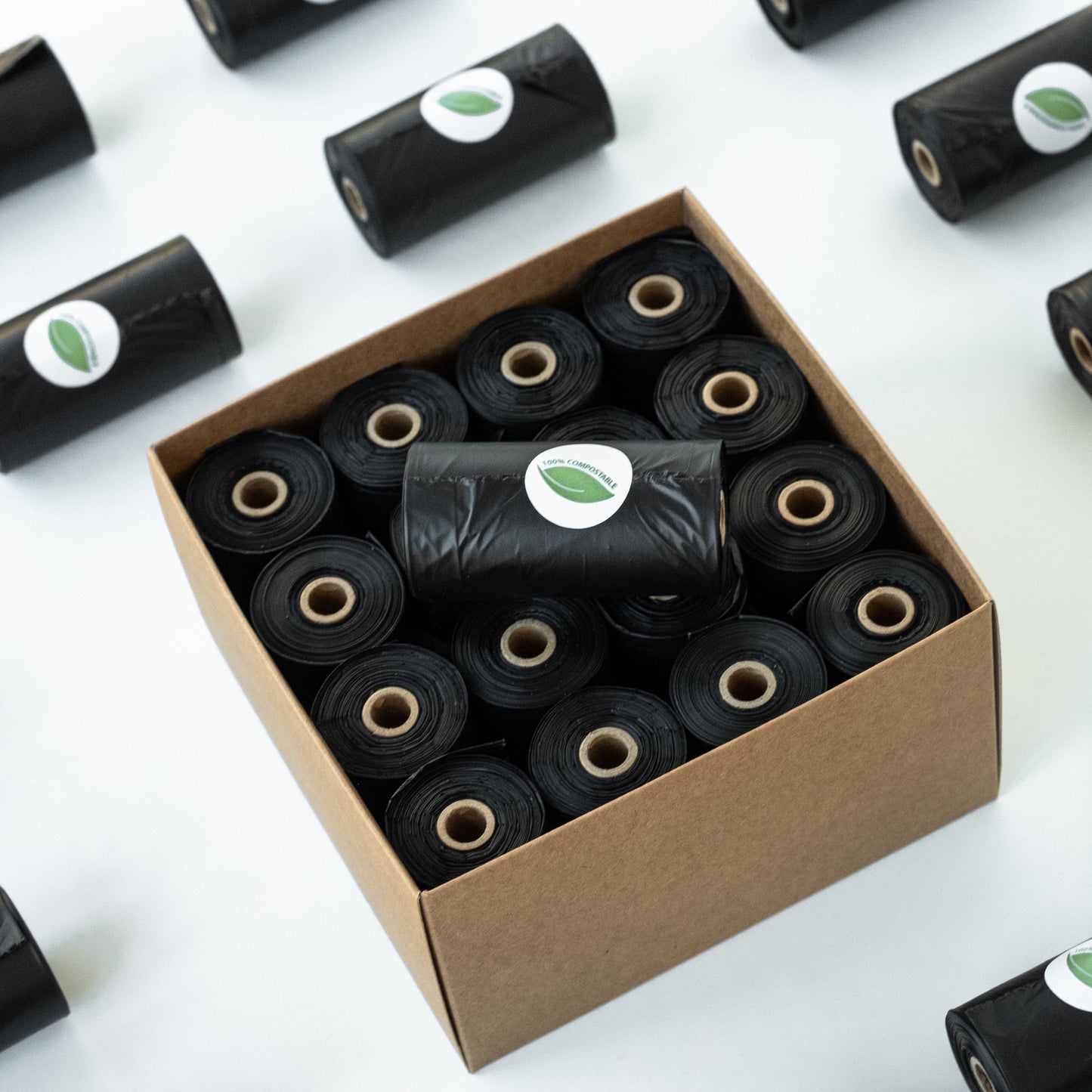 Compost!
Compostable dog waste bags are made from vegetable starches without any harmful additives. These dog waste bags can be tossed into the compost bin in your backyard, where they will decompose in 180 days and become rich hummus for your garden.
Collapsible content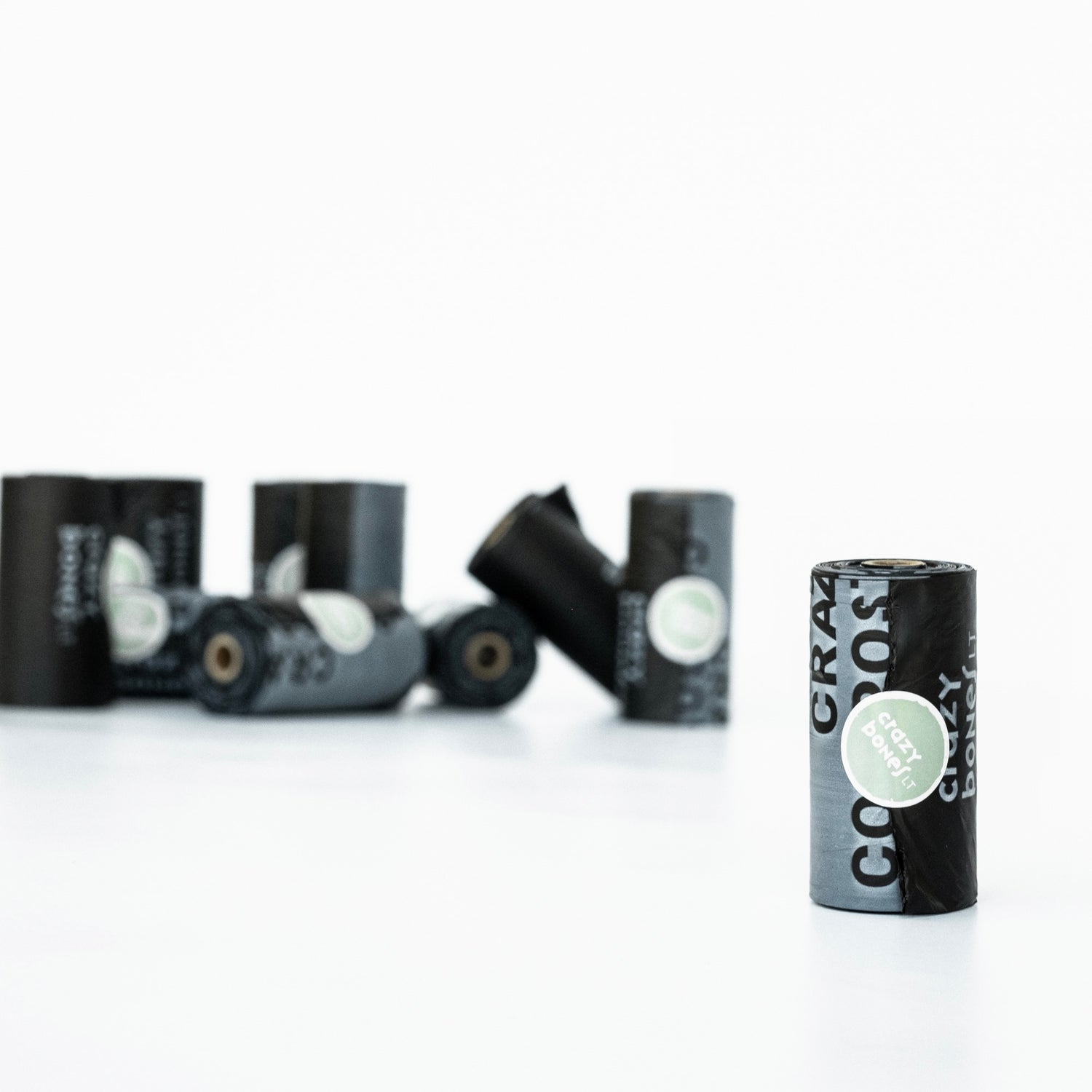 WHAT DOES COMPOSTABLE MEAN?

Compostable products (bags, wrap) are made from vegetable starches (usually corn), without harmful additives. Therefore, it can be thrown in the compost in your backyard or in general waste containers, where it will break down and become rich hummus for your garden or garden in 180 days.
WHAT DEGRADABLE REALY MEANS?

Degradable bags can be of several types, it is important to understand what you are getting when purchasing a product: - compostable, these are the bags we have already met. Such products always have special markings that allow you to make sure that the product complies with the requirements. - degradable bags in most cases are plastic bags with some additives to make the degradability faster. These products are not organic or environmentally friendly. Micro plastic particles remain in our environment for a long time, they are not recyclable and can be extremely harmful to living organisms and us.
CAN I COMPOST CRAZYBONESLT BAGS AT HOME?

Yes, composting our bags does not require any special condition - You may through our bags in Your own compost bin and in 180 days, together with its contents, it will turn into CO2, water and rich hummus.
ARE ALL CRAZYBONESLT BAGS COMPOSTABLE?

Yes, all of our bags and food wrap are compostable at home. All product packaging is made from recycled paper. Also, the packages in which your parcels travel are compostable. When purchasing products in our e-shop, you will receive only environmentally friendly products and NO SINGLE-USE PLASTIC :)
THE WASTE BAG STARTED TO BREAK BEFORE I MANAGED TO TAKE OUR THE TRASH. WHAT DO I DO WRONG?

All of our bags are compostable at home - the decomposition process begins the moment the bag gets in contact moisture and heat. We recommend taking your waste out at least every 5 days (more often during summer months). The decomposition of the waste bag in the bin only proves that the bag is natural and compostable :)
IS ALL PLASTIC BAD?

No, plastic is not a bad thing - it is a very common material used in various industries and not always a substitute today is available. The most important thing is how we sort and recycle our plastic waste. Today less than 15% of all plastic waste is recycled! So it means that the rest of it will stay in our environment for many years to come.